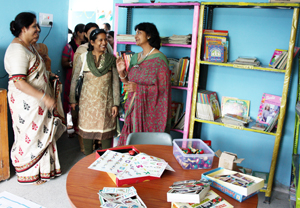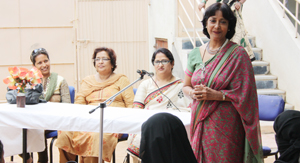 Inauguration of Resource Room


Special Education Resource Center inaugurated at Indian School of Excellence

Saturday 14th August 2010, Hyderabad:

Indian school of Excellence is one of the leading English medium schools in Tolichowki. This school is one of the pioneers in providing special education to its students.

Apart from achieving excellence in their regular curriculum they have set up a separate division to deal with children with learning problems. One of the measures has been creating a resource room that contains teaching aids and advance subject support tools to help normal as well as children with special educational needs.

The resource room was inaugurated by Ms Farida Raj – Director, Center of Special Education, Secunderabad. After the inauguration Ms Farida educated the parents of children about different learning problems and how to deal with them. Ms Pooja Jha a leading educational psychologist of Hyderabad has also contributed to the implementation of the resource room. Ms Rumana Ahmed who is M.A. in Psychology heads the school.

The Indian School of Excellence has been working with children having Learning Difficulties (slow learners, dyslexics, Attention Deficit Hyperactive Disorder and Behaviour Problems) for the last couple of years. Presently, the school is catering to almost 50 such students. Special educators assess the students, where their problem areas are identified. Then an individual programme is designed and implemented by the keeping the child in the mainstream classroom. The net result is development of self-confidence and improvement in academic performance.

With awareness in our society regarding learning problems, the work done by the Indian school of Excellence is commendable and will go along way in helping these children in overcoming their problems.