Facilities

Science Lab

Computer Lab


Audio -Visual Teaching
Aids

Library


Transportation

Play Ground

Dining Hall
Facilities > Transportation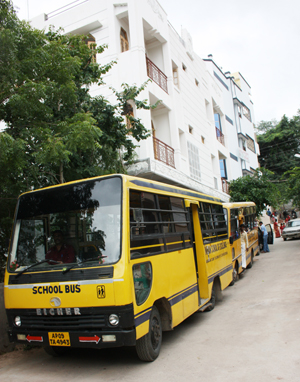 Transportation facility is provided under the supervision of an adult.

Two 32 seater buses plying on the Mehdipatnam -
Gacibowli route caters to students coming from areas
as removed as attapur.

The other areas covered by the buses are Lungar
House, Reti Bowli, Nanal Nagar, Salalrjung Colony, MD
Lines, Golconda Fort, Ahmed Colony, Moti Darwaza,
Tolichowki X roads, Hakempet, IAS colony, Mairaj
colony, Janki nagar, Brindavan Colony, Paramount
Colony, Hakeemshah Colony, Koh e Saar Colony,
Adithya Nagar, Rahul Colony, Adams Colony,
SevenTombs Road, Samatha colony, Banjari Darwaza,
Shaikpet.